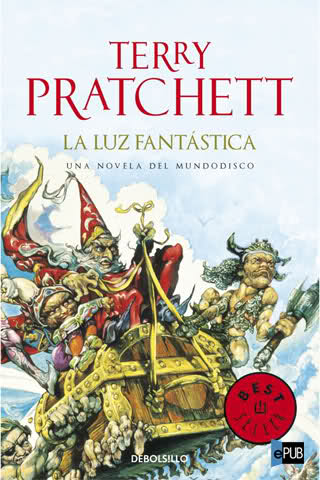 Hola! De nou amb una ressenya literària.
Títol: La Luz Fantástica (crec que no està traduït al català)
Títol original: The Light Fantastic
Precedit de: El color de la magia
Continuacions: d'acord, heu de saber que això és una saga interminable composta per diverses sagues i aquí us deixo una guia de lectura, ni idea de si està actualitzada.
T'agradarà si: ja et va agradar la primera part i vas connectar amb els personatges, et ve de gust alguna cosa amb humor, fantasia, aventures sense parar...
Ni ho intentis si: el primer llibre ja no et va agradar, no gaudeixes d'un llibre amb moltes parts còmiques, vols una cosa seriosa i transcendental (Ignoreu això últim ...)
(conté spoilers de l'anterior llibre)
Després de deixar-nos a el Rincewind i el Dos Flors caient per la vora del món les coses segueixen complicant-se per aquest duo tan característic. Sobretot tenint en compte que l'Encanteri no sembla voler desallotjar-se de la ment del Rincewind amb les conseqüències que això portarà....
Crec que va ser l'any passat quan vaig llegir la primera part d'aquesta sèrie tan llarga i la veritat és vaig quedar amb ganes de llegir els següents, però com em sol passar amb les sagues, en algun lloc de la meva ment tenia la idea de continuar amb aquests llibres però altres lectures anaven interposant-se en el meu camí fins que per fi m'he animat a llegir aquest segon llibre de la saga del Rincewind. He de dir que he quedat molt satisfeta amb el resultat i que gairebé m'ha agradat més que el primer.
L'estil d'aquest llibre és hilarant. El narrador en tot moment va fent comentaris amb un to graciós que és precisament el que més destaca d'aquesta saga. És de fet una de les característiques que fan que sigui una lectura tan amena i dinàmica. A més del típic efecte de qualsevol llibre còmic que és que tothom al teu voltant pensi que estiguis boja per riure sola.
Per això és una història que es llegeix bastant ràpid. També ajuda que vagi canviant moltes vegades la situació que segueix el narrador, encara que normalment es centri en el que els passa al Rincewind i el Dos Flors, de vegades segueix altres personatges rellevants.
L'argument segueix en la línia de l'anterior. Un munt d'aventures una darrere d'una altra amb un ritme tan trepidant que realment no hi ha descans. En un paràgraf els protagonistes poden estar fugint d'un perill i al següent tenir un problema molt diferent. De vegades et pots arribar a perdre si no estàs molt atent. Encara que també cal dir que realment no esperes una història molt interessant o dramàtica sinó simplement molta fantasia cada vegada més original i graciosa.
Potser una cosa que no m'ha agradat, o que em fa estar menys predisposada a continuar amb la saga, encara que probablement ho faci algun dia, és que cert personatge se'n va. La veritat és que m'encantava com combinaven i ha estat una cosa que no esperava ni desitjava, però en fi, segueixo encantada amb l'humor de l'autor així que paciència i seguiré llegint (suposo).
Els personatges també és un punt que he adorat, fins i tot més que en el primer llibre perquè ja els coneixia. M'encanta el Rincewind amb el seu sarcasme, la seva covardia, la seva facilitat perquè tots els problemes el persegueixin, el seu sentit comú. I encara m'agrada més quan es desespera per l'actitud que mostra el Dosflores, sempre emocionat i amb ganes d'aventures. O com el mateix Rincewind el descriu, veient el món a través d'unes ulleres de color de rosa.
Però no només ells, altres personatges secundaris van apareixent contínuament donant més diversitat i creant un món més ric.
Resumint, aquesta segona part ha estat una gran lectura que m'ha divertit molt i que només el seu final m'ha deixat un sentiment agredolç. Tot i així recomano a tothom que provin almenys algun llibre del Mundodisco.
El millor: humor, personatges, amè.
El pitjor: final, et pots perdre.
Fins aquí el meu avorriment.